Hi I'm using Yii and I'm logging errors to track them but I got an error from Command.php I can't resolve.
Here is the stacktrace :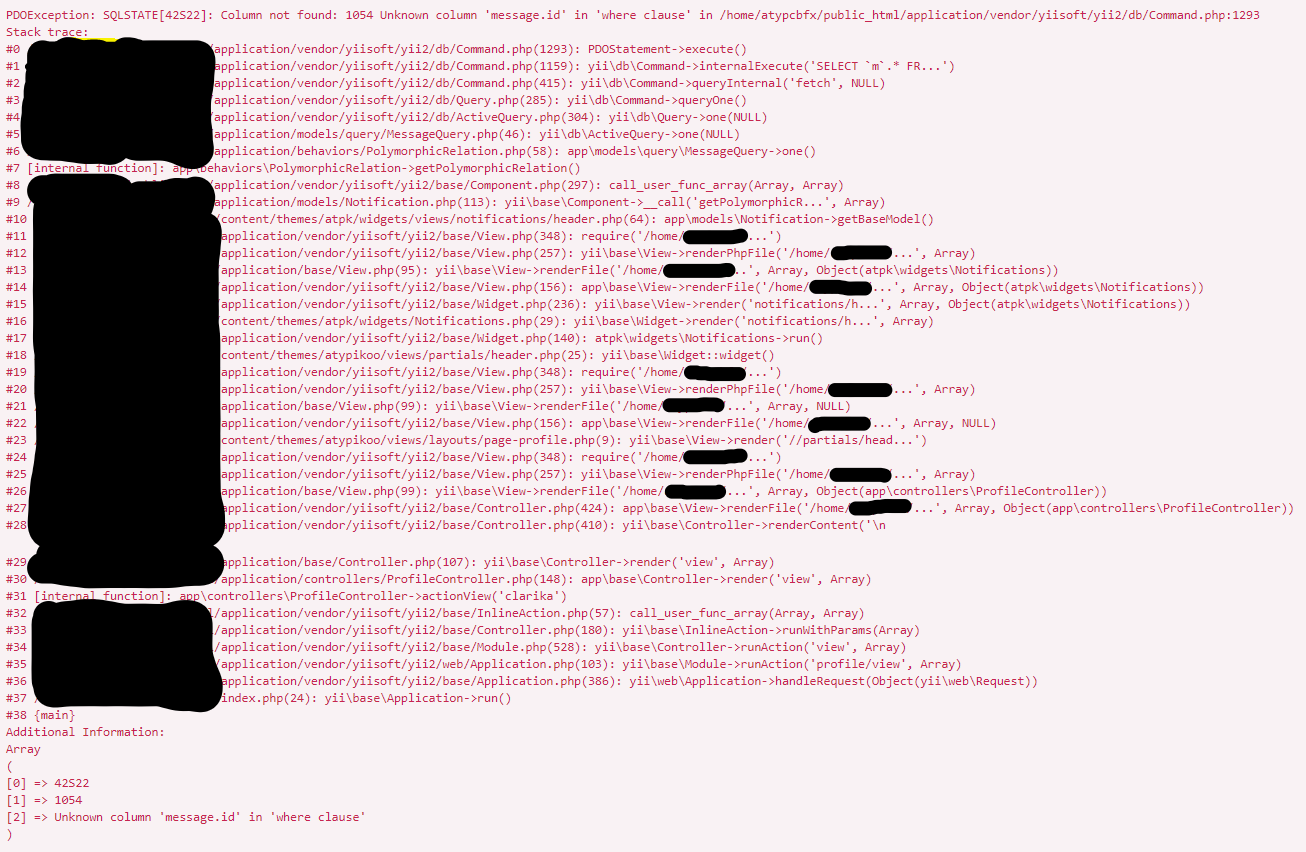 I can't understand where the 'message.id' comes from.
If you need any further informations on functions/code just let me know. I got a bit lost by this stack trace. Not sure where to look exactly.
Thank you in advance.
PS: here is the text of the stacktrace
PDOException: SQLSTATE[42S22]: Column not found: 1054 Unknown column 'message.id' in 'where clause' in /xxxx/application/vendor/yiisoft/yii2/db/Command.php:1293
Stack trace:
#0 /xxxx/application/vendor/yiisoft/yii2/db/Command.php(1293): PDOStatement->execute()
#1 /xxxx/application/vendor/yiisoft/yii2/db/Command.php(1159): yii\db\Command->internalExecute('SELECT `m`.* FR...')
#2 /xxxx/application/vendor/yiisoft/yii2/db/Command.php(415): yii\db\Command->queryInternal('fetch', NULL)
#3 /xxxx/application/vendor/yiisoft/yii2/db/Query.php(285): yii\db\Command->queryOne()
#4 /xxxx/application/vendor/yiisoft/yii2/db/ActiveQuery.php(304): yii\db\Query->one(NULL)
#5 /xxxx/application/models/query/MessageQuery.php(46): yii\db\ActiveQuery->one(NULL)
#6 /xxxx/application/behaviors/PolymorphicRelation.php(58): app\models\query\MessageQuery->one()
#7 [internal function]: app\behaviors\PolymorphicRelation->getPolymorphicRelation()
#8 /xxxx/application/vendor/yiisoft/yii2/base/Component.php(297): call_user_func_array(Array, Array)
#9 /xxxx/application/models/Notification.php(113): yii\base\Component->__call('getPolymorphicR...', Array)
#10 /xxxx/content/themes/atpk/widgets/views/notifications/header.php(64): app\models\Notification->getBaseModel()
#11 /xxxx/application/vendor/yiisoft/yii2/base/View.php(348): require('/xxxx/...')
#12 /xxxx/application/vendor/yiisoft/yii2/base/View.php(257): yii\base\View->renderPhpFile('/xxxx/...', Array)
#13 /xxxx/application/base/View.php(95): yii\base\View->renderFile('/xxxx/...', Array, Object(atpk\widgets\Notifications))
#14 /xxxx/application/vendor/yiisoft/yii2/base/View.php(156): app\base\View->renderFile('/xxxx/...', Array, Object(atpk\widgets\Notifications))
#15 /xxxx/application/vendor/yiisoft/yii2/base/Widget.php(236): yii\base\View->render('notifications/h...', Array, Object(atpk\widgets\Notifications))
#16 /xxxx/content/themes/atpk/widgets/Notifications.php(29): yii\base\Widget->render('notifications/h...', Array)
#17 /xxxx/application/vendor/yiisoft/yii2/base/Widget.php(140): atpk\widgets\Notifications->run()
#18 /xxxx/content/themes/atpk2/views/partials/header.php(25): yii\base\Widget::widget()
#19 /xxxx/application/vendor/yiisoft/yii2/base/View.php(348): require('/xxxx/...')
#20 /xxxx/application/vendor/yiisoft/yii2/base/View.php(257): yii\base\View->renderPhpFile('/xxxx/...', Array)
#21 /xxxx/application/base/View.php(99): yii\base\View->renderFile('/xxxx/...', Array, NULL)
#22 /xxxx/application/vendor/yiisoft/yii2/base/View.php(156): app\base\View->renderFile('/xxxx/...', Array, NULL)
#23 /xxxx/content/themes/atpk2/views/layouts/page-profile.php(9): yii\base\View->render('//partials/head...')
#24 /xxxx/application/vendor/yiisoft/yii2/base/View.php(348): require('/xxxx/...')
#25 /xxxx/application/vendor/yiisoft/yii2/base/View.php(257): yii\base\View->renderPhpFile('/xxxx/...', Array)
#26 /xxxx/application/base/View.php(99): yii\base\View->renderFile('/xxxx/...', Array, Object(app\controllers\ProfileController))
#27 /xxxx/application/vendor/yiisoft/yii2/base/Controller.php(424): app\base\View->renderFile('/xxxx/...', Array, Object(app\controllers\ProfileController))
#28 /xxxx/application/vendor/yiisoft/yii2/base/Controller.php(410): yii\base\Controller->renderContent('\n...')
#29 /xxxx/application/base/Controller.php(107): yii\base\Controller->render('view', Array)
#30 /xxxx/application/controllers/ProfileController.php(148): app\base\Controller->render('view', Array)
#31 [internal function]: app\controllers\ProfileController->actionView('clarika')
#32 /xxxx/application/vendor/yiisoft/yii2/base/InlineAction.php(57): call_user_func_array(Array, Array)
#33 /xxxx/application/vendor/yiisoft/yii2/base/Controller.php(180): yii\base\InlineAction->runWithParams(Array)
#34 /xxxx/application/vendor/yiisoft/yii2/base/Module.php(528): yii\base\Controller->runAction('view', Array)
#35 /xxxx/application/vendor/yiisoft/yii2/web/Application.php(103): yii\base\Module->runAction('profile/view', Array)
#36 /xxxx/application/vendor/yiisoft/yii2/base/Application.php(386): yii\web\Application->handleRequest(Object(yii\web\Request))
#37 /xxxx/index.php(24): yii\base\Application->run()
#38 {main}
Additional Information:
Array
(
[0] => 42S22
[1] => 1054
[2] => Unknown column 'message.id' in 'where clause'
)